100% macadamia nuts ground into butter
Macadamia nut butter - from creamy for nut spreads to ultra liquid for nut milk: We produce macadamia butter according to your requirements.
Roasted or raw
Macadamia integrifolia
Raw food quality
Available in bulk
Worldwide shipping
For processors and traders
At LIMBUA, we believe that true quality starts at the foundation - with the raw ingredients. Our butter is made from hand-cracked, premium macadamia nuts sourced from our carefully selected organic smallholder farmers. Each nut is carefully selected to ensure it meets our high quality standards. Hand-cracking not only ensures the quality of our nuts, but also preserves the natural flavors and nutrients.

Macadamia nut selection

The macadamia nut butter is available both from the raw and roasted nuts gently prepared.
It has a creamy texture and a rich, nutty flavor that makes it a delicious alternative to traditional nut butters such as peanut butter or almond butter.
Our flavorful macadamia butter is perfectly suitable for sauces and dips, as a spread, for refining noble creams or dressings, for the production of delicious pralines and as a very easy-to-process basis for macadamia-milk, -cream and cheese.
Of course, it is also suitable for cooking and baking.
Macadamia butter is also a great source of healthy fats, fiber, and protein, making it a great addition to a diet. It can be used as a spread on toast or bagels, as a dip for fruit or vegetables, or as an ingredient in baking and cooking.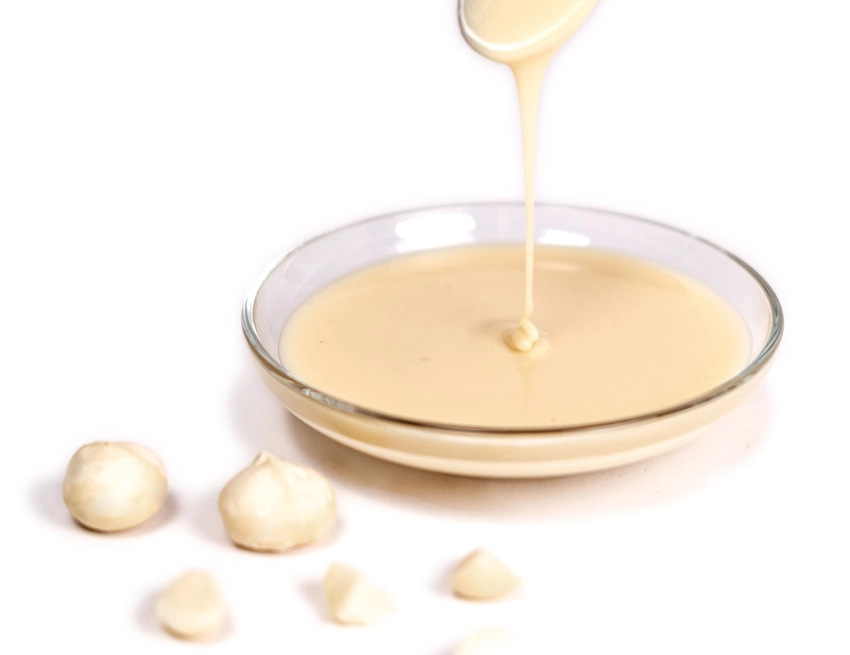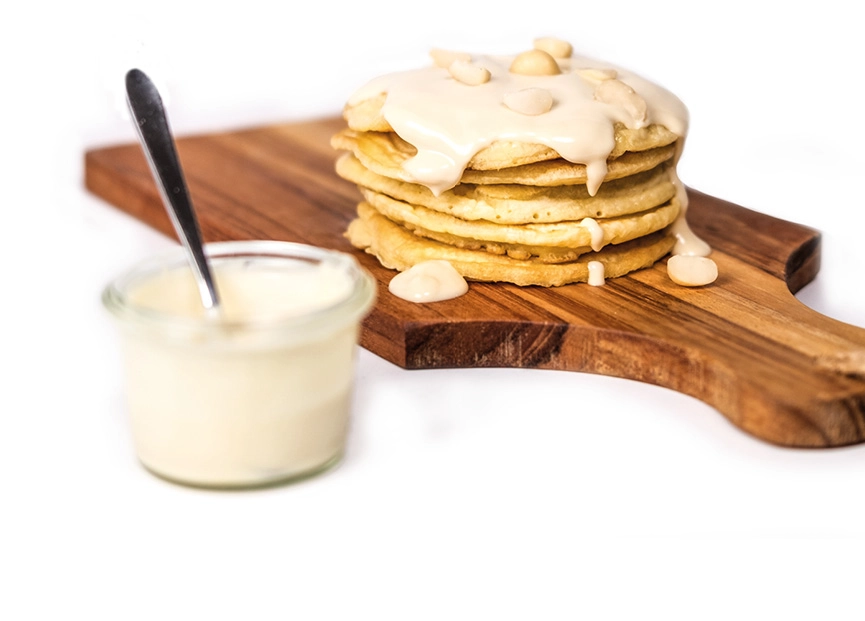 Nut butter fluid - creamy - spreadable
As a B2B customer, you can rely on our reliability and continuity. We guarantee consistent quality and freshness of our macadamia nut butter, which will meet your high demands. Our product is free of additives, preservatives, genetic engineering, gluten and is 100% vegan. So you can be sure that you offer your customers a pure natural product that meets modern requirements for healthy and sustainable food.
You will benefit from our close cooperation and many years of experience in the food industry. We are proud to support you in the development of new products and the application of our Macadamia Mush in your assortment. Our experienced team is always available to answer your questions and develop customized solutions for your requirements.
For trade and industry.