In 2021, it was time to take the next step - and develop our company further. The result is a project that satisfies Kenyan farmers and end customers alike: a factory for organic avocado oil, decentralized, at the foot of Mount Kenya, like our other factories. Find out in this article about its impact on the lives of the Kenyans and what we are doing to produce a first-class product.


More income security, less crime: what our organic avocado oil does
Creating global and sustainable value chains that benefit local farmers: We founded our first project "macadamiafans" in 2009 with this goal in mind. And this is exactly what the new avocado oil factory aims to achieve as well.
The avocado factory is located a few kilometers from the village of Ena (Embu County, Kenya) and is situated in the middle of the mixed farms of our smallholder farmers. Commissioned after three months of construction, it contributes to improved living conditions in many ways:
Additional income: So far, we have processed macadamia nuts from our farmers. However, as part of a sustainable mixed culture, Avocados and Mangos also grow on the farms. From now on, the families can also sell these to us and increase their income.



More security: The addition of another source of income increases the independence of smallholder farmers and protection from the effects of climate change - if a harvest is poor, our farmers continue to earn money from the yields of the remaining crops. To strengthen income and security for the farmers, we use the varieties "Hass" and "Fuerte" for our avocado oil. These provide particularly high oil yields, ripen quickly and produce more harvests on a smaller cultivation area. In addition, we have avocado seedlings grown in LIMBUA's own Kenyan nurseries alongside organic macadamia seedlings. Here, they are cared for and grafted according to the latest knowledge and in cooperation with government scientists.

In this way, we ensure high and qualitative yields that benefit both sides - and offer project-external farmers an incentive to switch to organic mixed crops.

New jobs: Our factory creates jobs that benefit young people and women in particular. For example, we have hired machine operators, food scientists, electrical engineers, drivers, sorters or security personnel - now, over 700 people work in LIMBUA's factories.



Sustainably grown: The Avocados grow on the organic mixed farms of smallholders around Mount Kenya. Due to the favorable location in the humid climate, no additional irrigation is necessary.



Sarah Muthaka, Luka Kirungu, Abigail Birech, Caroline Kadima, Boniface Mutua (

l.t.r.

)


Expanding the community: Before our factory was built, part of the community had no access to piped water or electricity - both of which are now a thing of the past. In addition, we have turned the roads into solid streets. Therefore, not only do our employees benefit from the plant, but so do their families and the entire community.


Reduced crime: By giving young people stable sources of income, the factory has been proven to reduce crime.


Less rural migration: Jobs and living wage sales enable residents to stay in the countryside. In this way, we prevent migration to the cities, where in most cases a life in slums awaits.

What challenges we faced - and how we overcame them

On the way from the idea to the first bottle of avocado oil, we encountered various hurdles. For example, the avocado season was already underway when we completed the building.
In addition, there is a lot of interest among Kenyan competitors in exporting the popular fruit. Because we have always maintained excellent relationships with our farmers, they nevertheless provided LIMBUA with bountiful harvests - so bountiful that they were sufficient for the entire first production season.
After filling, however, we encountered another challenge. In Covid times, it proved difficult to procure ships and appropriate containers for transport - but here, too, the good cooperation with our partners paid off: The export was organized and took place without a hitch. In short, we work hand in hand with our farmers and other partners. This is how we manage to maintain appreciative relationships, overcome any challenges - and keep production processes running smoothly. You can find out more about how work is done in our factory here:

How the avocado gets into the bottle: a production overview
Our sustainable value chains should result in avocado oil of the highest quality ("extra virgin"). That is why we only use ripe fruits. Upon receipt of goods, overripe avocados are sorted out and unripe avocados are brought back for post-ripening. Categorization is done manually using the thumb test: if the fruit yields to pressure, it is ready for processing.
The best avocados are allowed to continue their journey through our production facility, passing through several steps:
Avocado cleaning:

Our employees wash the avocados with clean water, thus removing impurities from the skin. Chemical solvents are not used here. To avoid pressure marks, we control the operating water pressure.





Before processing, the good, ripe avocados are washed with clean, purified water

Stoning: the paste - that is, the buttery flesh - is separated from the seed (avocado pit) and the cellular tissue (skin).


Malaxation:

In the malaxer, the actual production begins. The machine slowly stirs and heats the paste, causing microscopic oil and water droplets to flow together. Only when the temperature and residence time are right does a first-class product emerge. In a nutshell, this is a mechanical cold pressing process that does not require any chemical additives.




Separation:

Finally, we separate the oil from the paste. This involves a complex, two-stage process that removes ultra-fine impurities.

What remains is a organic avocado oil that is ready to be exported to the world - and to impress: with the highest purity, a characteristic avocado flavor and intense green tones.

Fatty Acids & Uses: Why avocado provides one of the best oils.

Around 80 percent unsaturated fatty acids make avocado oil an extremely precious product that shines in both food and cosmetics. For example, it nourishes and cares for brittle skin or brittle hair and protects to a certain extent against UV rays as well as premature signs of aging - after all, it contains vitamin E and other valuable nutrients. In addition, avocado oil is easy to spread, is quickly absorbed and has an emulsifying effect in ointments and lotions.
Conclusion: First-class oil with a positive social impact
Organic Avocado oil is considered one of the most valuable oils of all. Purchased from LIMBUA, it also strengthens the local community and the income security of 7,000 smallholders.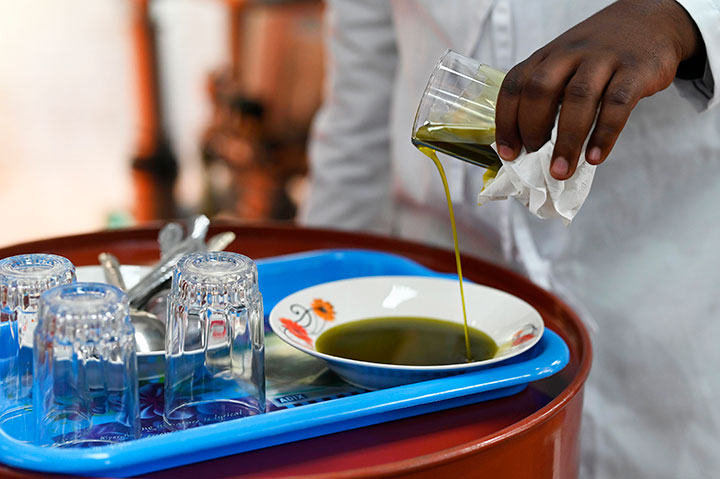 Organic avocado oil from our own production. It was taken at the end of the production line.